In the artistic practice track, creative practice explores aspects of movement and corporeal presence in processes that go through the full cycle from inception, conceptualisation, rehearsal and composition to actualisation in performance on stage.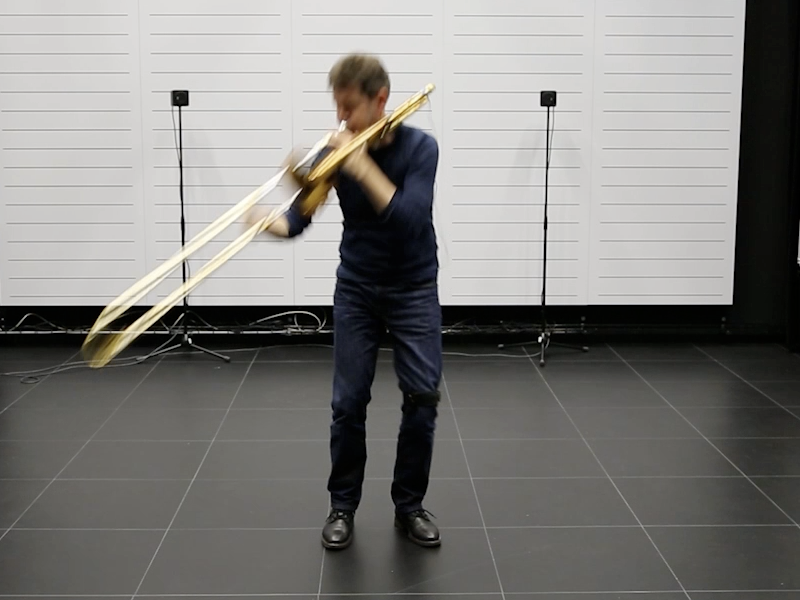 The experimental settings for the practice-led processes are established in two artistic creation cycles. These two exploratory situations lead to the development, creation and production of compositions and performance pieces. These practice-based projects address the question about the role of motion and gesture as a structuring principle in Music creation and performance processes. In both projects, the utilisation of inter- action technologies in conjunction with electronic music techniques links the performer in a measurable way to key musical elements. This method enables the use of predefined categories of gestures through adaptive mapping and machine learning processes, thus making key-aspects of the performance commensurable with the empirical studies of the psychology track. In order to observe evolution of the concepts and ideas in their different specificity, all the phases of a complete artistic project cycle are implemented, from idea to finished stage performance. These project phases are technically documented in audio- and video-formats and captured in written form, by using session-protocols, artist interviews and auto-narrative development minutes, but ultimately also produce reflections in essay formats fit for publication.
The first practice-based cycle is entitled "Gesture in electronic Music". The focus is on the relationship between the instrumental/vocal performer with interaction technologies and digital sound processing. The guiding question informing this process is oriented towards finding out what elements in music performance are intrinsically gesture-related and can be leveraged for the composition of music that is based on gestural expression.
The second practice-based cycle is entitled "Interactive Dance and electronic Music" and inverts the inter-dependence of the disciplines. Here the artistic exploration addresses the question of how dance can influence music via technological connections and how this direct link influences the creation of choreographic work, dance performance and music.
These two projects are complementary in the sense that their configuration are mirroring the relation- ships of the performer, gesture and the musical processes. The musician, on the one hand, fulfils the role of the interpreter who produces sound, acoustically or electronically, and modifies it through gestural interaction. The dancer, on the other hand is put into a analogue situation; she creates or manipulates the music through the motion, gesture and expressive aspects of the choreography.